Spray soiled areas with a spot remover. Hand wash or machine wash using a delicate cycle. Line dry or wrinkle release dry cycle. Remove promptly. Hot iron if desired.
What is a rainbow baby? 
If you're one of the up to 15 percent of women who experience the loss of a child due to miscarriage, stillbirth or death during infancy, you know that it's an extremely emotional and emotionally crippling experience. You may have felt bogged down by sadness. Many have described being in a dark place or in the middle of a storm of loneliness. It seems nearly impossible to think of the day you may attempt to have another baby. This is what it means to have a rainbow baby. The rainbow baby is the term used to describe the birth of a healthy baby after the devastating loss of a child. The rainbow baby symbolizes the hope and light after the storm of devastation and loss. Rainbow babies are the personification of hope and love. 

Reasons to Love our Rainbow Accessory

Repurposed artisan loomed woven textiles.
Zero waste.
100% Cotton.
One-of-a-kind (OOAK there are no two alike!)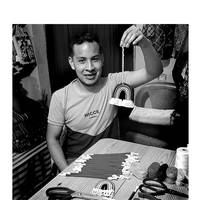 How we make them
Some of our accessories are made from repurposed Cortes (skirts Maya women wear) and Rebosos (baby wearing wrap) and deadstock fabrics. Cortes and Rebosos are made with a foot-loom, each design is typical of its region; each yard takes about 5-6 hours to weave! Our Bandanas, Scrunchies, Headbands and Denim Totes are made from dead stock (residual fabrics left over from major projects.) Instead of ending up in a landfill, these fabrics are repurposed for our accessories collection. Zero waste indeed!
Handmade by Artisans
Artisanal products differ from fast fashion products in that they are made in a traditional or non-mechanized way. Artisanal products are hand-crafted by skilled cobblers in small quantities with high quality and design in mind; using techniques that cannot be replicated by machines!
Power in Your Purchase
Thank you for helping us make our world a better place. Your purchase helps us to employ skilled artisans who in turn are able to earn an income to provide for their families!