All Leather Nano Luna Crossbody Bag Fiore
Our Nano Bags Fiore are made from Collector's Edition Leather. Our Fiore leather is an Italian hand-drawn design that is heat transferred onto full grain leather. Each one is hand rubbed and buffed so the subtle details in the intricate folds of the flowers come to life. This is a unique and exclusive pattern. Take special care of your Nano Bag as the pattern is unique and requires special attention. DO NOT use anything with acidic properties to clean. Never use lemon / lime juice, baby wipes, hand sanitizer, lysol wipes or anything with alcohol in it to clean. ONLY USE Smith's Leather Balm and a damp (with water) towel to condition and clean.
Our leather comes from one of the 10 best leather tanneries on earth! Everyone knows that a great leather product starts with great leather. It starts with the expertise of the tannery, where rawhides are transformed into the highest quality leather through the alchemy of the tanning process. There are countless tanneries out there — really, we've reviewed everything from Italian to Indonesian — but if you're looking for the best possible product, you can put your confidence in our name, we've done the research! Our leather vendor maintains a particular emphasis on environmental consciousness, recycling two thirds of their waste, guaranteeing leather free from restricted substances (like formaldehyde), and using solar energy to power their facility, a stance which has earned them a Leather Working Group gold medal.
Feel the spirit of handcrafted, the human touch of the leather craftsman, the beauty of imperfect, the soul of time and experience.

DETAILS
Full grain leather. Handcrafted. Metal Hardware. Made in Guatemala. Artisan crafted. One front pocket. One inside pocket. Leather lining. Removable and adjustable crossbody belt.

DIMENSIONS
5 1/2" W x 5 1/4" H x 1 1/2" D

Delivery Time:
It takes us 4-5 weeks to make your order, allow additional time (3-6 days) for USPS to deliver your order!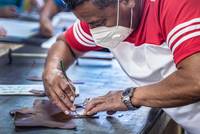 How we make them
Our products are beautifully exclusive In traditional Maya ceremonies and special events, bracelets, breastplates and other ancestral leather clothing was used. These types of products were the origins of how leather was used in Guatemala. Industrias Xela takes after this precedent in the artistry of leather working, called Marroquinería.
Handmade by Artisans
Artisanal products differ from fast fashion products in that they are made in a traditional or non-mechanized way. Artisanal products are hand-crafted by skilled cobblers in small quantities with high quality and design in mind; using techniques that cannot be replicated by machines!
Power in Your Purchase
Thank you for helping us make our world a better place. Your purchase helps us to employ skilled artisans who in turn are able to earn an income to provide for their families!