Bohe Leather Tech Organizer
Clean leather with Smith's Leather Balm only or your favorite full grain leather cleaner.
Made to Order Bohe Leather Tech Organizer:
This item is made to your order. Please note that your Bohe Leather Tech Organizer will take 2-3 weeks to make plus add one week for FedEx or USPS to deliver to your door.
Design
This new silhouette is designed to be a part of the new everyday carry essentials. Despite the versatility of this product, this launch version of the Bohe Leather Tech Organizer is made from the same leather selection to celebrate Mothers this year. The Mother's Day Tech Organizer pairs perfectly with our Mother's Day Bohe Backpack. Makes the organization of items easy and keeps your bag interiors mess-free.
Full-grain leather exterior. The interior is full of leather lining for a premium feel. Has leather pockets and also elastics to keep you organized.
Features

Specifically designed for and compatible with computer chargers, battery banks, cellphone chargers, mouse, headphones, and other tech accessories that need protection.
Quality
Genuine Guatemala Artisan Hand-Made Product
Sustainability
Our leather is responsibly sourced from our award-winning tannery. Each piece of leather is hand-cut and handcrafted by artisans that partner with us to deliver to you the most authentic artisan-made products.
Dimensions
8 1/8 H x 9 3/8 W in
 "Made To Order"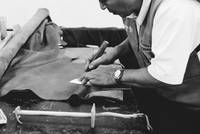 How we make them
Our products are beautifully exclusive
In traditional Maya ceremonies and special events, bracelets, breastplates and other ancestral leather clothing was used. These types of products were the origins of how leather was used in Guatemala. Industrias Xela takes after this precedent in the artistry of leather working, called Marroquinería.
Handmade by Artisans
Artisanal products differ from fast fashion products in that they are made in a traditional or non-mechanized way. Artisanal products are hand-crafted by skilled cobblers in small quantities with high quality and design in mind; using techniques that cannot be replicated by machines!
Power in Your Purchase
Thank you for helping us make our world a better place. Your purchase helps us to employ skilled artisans who in turn are able to earn an income to provide for their families!