All full grain leather, up-cycled denim lining and lots of goodness in the making! Designed in the USA and handcrafted by skilled artisans in Guatemala.
3 Way wearing - handles, removable/adjustable cross body strap and back straps, three inner compartments plus one inner pocket, and an inner pocket for pens. Timeless, classic design.
Size: 12.5" Width x 9.5" Height x 4" Depth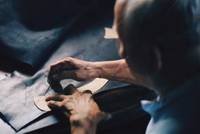 How we make them
A craftsman cuts the leather by hand, choosing the leather carefully and making sure that he follows the grain of the leather, his expert eye tells him the best way to cut each piece. He then sews each piece with accuracy and exactness only seasoned cobblers have mastered. Each upper body is placed then in the shoe form and with skilled and strength, the master cobbler dresses the form and prepares it to attach the leather sole. The soles are then layered, one on top of another, he then cuts and sands the leather to perfection. Once the glue is dry the leather Artisan then carefully builds-up the finish with an expert's eye, and touch, to achieve an aged patina in just the right places to reflect the aged qualities only time, wear, and frequent care could have accomplished naturally

Handmade by Artisans
Artisanal products differ from fast fashion products in that they are made in a traditional or non-mechanized way. Artisanal products are hand-crafted by skilled cobblers in small quantities with high quality and design in mind; using techniques that cannot be replicated by machines!
Power in Your Purchase
Thank you for helping us make our world a better place. Your purchase helps us to employ skilled artisans who in turn are able to earn an income to provide for their families!