Machine wash and dry. Remove promptly. Hot iron if desired.
Our Indigo Bandanas are made from repurposed Cortes (skirts Mayan women wear). Cortes are made with a foot-loom and each is about 4.5 yards long. Each design is typical of its region and each yard takes 5-6 hours to weave. 
After their Cortes have been used, sometimes for 4-5 years, and they have woven a new one, Mayan women sell their used Corte at the local artisan markets to be purchased and repurposed into tablecloths, curtains, or put to any other good use. Each Corte is loomed using cotton thread that has been prepared with intricate Ikat designs using century old techniques that cannot be duplicated by machines. 

Size: 22 x 22 inches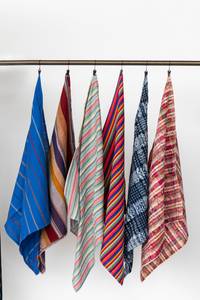 How we make them
Some of our accessories are made from repurposed Cortes (skirts Maya women wear) and Rebosos (baby wearing wrap) and deadstock fabrics. Cortes and Rebosos are made with a foot-loom, each design is typical of its region; each yard takes about 5-6 hours to weave! Our Bandanas, Scrunchies, Headbands and Denim Totes are made from dead stock (residual fabrics left over from major projects.) Instead of ending up in a landfill, these fabrics are repurposed for our accessories collection. Zero waste indeed!

Handmade by Artisans
Artisanal products differ from fast fashion products in that they are made in a traditional or non-mechanized way. Artisanal products are hand-crafted by skilled cobblers in small quantities with high quality and design in mind; using techniques that cannot be replicated by machines!
Power in Your Purchase
Thank you for helping us make our world a better place. Your purchase helps us to employ skilled artisans who in turn are able to earn an income to provide for their families!